Introduction to the Xiaomi Mi Band
The Xiaomi Mi Band is a brand of wearable fitness technology that provides insight on a personal's physical activities. Composed of a bracelet worn on either hand, the Mi Band uses a military-grade sensor to provide fitness tracking, sleep-cycle assessment, and other wellness monitoring. The company also has an official app known as Mi Health.
Since the release of the first model in 2014, the Xiaomi Mi Band has stood out among other fitness trackers due to its affordability and ease of use. As technological advances expand, the company makes upgrades that consistently produces new versions of the product. With a total of six versions available, it can feel daunting to determine which version is best for your exercise regimen and lifestyle. A look at the key features and characteristics of each Mi Band version can equip you with the information needed to reach your fitness goals.
Mi Band 6 – Best for Versatile Workouts
Announced with much fanfare, the Mi Band 6 features the largest screen and most intricate sensory technology of any of its predecessors. In fact, Mi Band 6 screen is nearly 50% larger than the Mi Band 5 and features a 1.56-inch, 152 x 486 pixel-resolution AMOLED display. The Mi Band 6's panel display comes attached to a silicone wristband that adjusts between 155-219mm in diameter for maximum comfort.
According to Xiaomi, the best features of the Mi Band 6 include 24/7 heart rate monitoring as well as a refined oxygen saturation (SpO2) sensor. It has a customizable function module with 30 different fitness modes. And if you want to take your time familiarizing yourself with the device, the tracker will automatically detect the six most-selected fitness stats. For example, frequently selected stats include sleep tracking, stress monitoring, reproductive tracking, and rest alerts. The Mi Band 6 comes with an NFC variant and can connect with Bluetooth 5.0.
In addition to its smart features, the Mi Band 6 is also energy efficient. It includes a 125mAh battery that lasts up to 14 days on a single charge. The magnetic charger is included, and it requires under two hours to reach a full charge during each session.
Mi Band 5 – Best for Outdoor Workouts
Hailed for its brighter display, the Mi Band 5 is ideal for those who prefer to exercise outdoors. It features 450-nit brightness that performs better under direct sunlight than previous fitness trackers. Along with this brightness, the Mi Band 5 has a 1.1-inch, 126 x 294 pixel-resolution AMOLED display. In addition, Xiaomi emphasizes that the 24/7 heart rate monitoring and the capacitive sensing for this model is up to 50% more accurate than the previous version.
Popular fitness features include the step counter, personal activity intelligence (PAI) score, and sedentary monitor. The band features 11 different workout modes that emphasize outdoor activities like running, power walking, and swimming. In addition, it connects to Bluetooth 5.0 as well as near-field communication (NFC). Once enabled, the NFC-enabled mode has a built-in microphone for the virtual assistant known as Xiao.
Mi Band 4 – Best for Indoor Workouts
The Mi Band 4 is the model that brings vividness to your everyday workout. Celebrated as the first full-color touchscreen from Xiaomi, this version is also 39.9% larger than its predecessor. It has a 0.95-inch, 128 x 240 pixel-resolution AMOLED display. In addition, the Mi Band 4 has a color depth of 24 bits and an adjustable screen brightness of up to 400 nits.
Along with its touchscreen display, the Mi Band 4 has a single button that controls all major functions of this device. The control button wakes up the monitor and serves as the back button for scrolling through settings. This fitness tracker measures acceleration, orientation and velocity, and geometric proximity during exercise. And even with its brilliant display, the monitor includes an energy-efficient rechargeable battery that lasts up to 20 days after a charging session. Waterproof up to 50 meters and five atmospheres, this silicone wristband makes a great choice for seeing in color even if you decide to swim underwater.
Mi Band 3 – Best for Google Fit Integration Workouts
If you enjoy using existing wellness tools like Google Fit, then Mi Band 3 is a viable option for you. This wristband contains a core tracker that integrates with Google Fit through the corresponding app available on Google Play. It also connects to Bluetooth 4.2 for continuous activity tracking during intensive exercise. The Mi Band 3 features a 0.78-inch, 128 × 80 pixel-resolution OLED display. It also has a single-point touchscreen that works well indoors and outdoors (although visibility decreases slightly under direct sunlight). The Mi Band 3 also features durable casing. However, the casing is a plastic alloy instead of the tempered glass that protects the screens of later models.
Sensory modes for the Mi Band 3 include an advanced accelerometer as well as an optical heart rate monitor. The heart rate monitor is great for measuring timed aerobic workouts. However, it is important to note that this model does not offer the 24/7 heart rate display found in later models. But for individuals who primarily measure their heart rates during and immediately following workouts, this model is a highly economical choice. You can then compare your stats within your Google Fit account.
Mi Band 2 – Best for Walking Workouts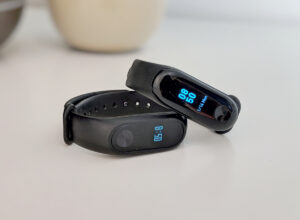 For individuals who have gained traction in their fitness journeys and would like to further trace their steps, the Mi Band 2 is a cost-efficient choice. Dubbed the "ideal step tracker," this wristband includes sensor tools like an accelerometer, optional heart rate monitor, and vibration engine to help your pacing remain in the right direction. With a 0.42-inch OLED display, the Mi Band 2 does not have the largest screen around. However, it is the standard size of most pedometer models, so it is highly sufficient to use this tracker for that purpose.
The Mi Band 2 connects seamlessly with the Bluetooth 4.2 and Bluetooth 4.0. It is waterproof with a plastic wristband clasp and polymer display casing. Although some pool swimmers may prefer the silicone of later models, the waterproof feature of this model means that you never need to worry about a little unexpected rain during your outdoor walk. This model also comes with a rechargeable battery that lasts up to two weeks after a charging session.
Mi Band 1 – Best for Beginner Workouts
As the flagship fitness tracker for the Xiaomi brand, the Mi Band 1 includes features that makes it competitive against other wearable fitness accessories. The Mi Band 1 features a core tracker that measured approximately 9.0 mm in thickness and 36 mm in length. This core tracker includes a rechargeable battery and inserted directly into the charger module of a TPSiV wristband. The charger module then connects directly to a 5.0 V external power source. In addition, the wristband itself is UV-resistant, antimicrobial, and hypoallergenic.
The Mi Band 1 establishes notable characteristics for the product. Foremost, it is a fitness monitor that provides a record of body statistics during exercise. In addition to sleep-cycle tracking, it also provides a smart alarm system that enables you to adjust your schedule for maximum rapid-eye movement (REM) sleep benefits. The band allows you to download the app from Google Play and unlock an Android phone via swipe (thereby eliminating the password). It also includes vibrate alerts for calls and notifications. With 14-day standby power and water resistance, this band set high standards for wearable technology throughout the decade.
The Bottom Line on the Xiaomi Mi Band
When it comes to wearable fitness technology, it is rare to find highly intricate devices that are also economical. The Xiaomi Mi Band offers a range of versions that are practical and serve customizable workout needs. Choosing the right Xiaomi Mi Band can help you make the most of your fitness routine.